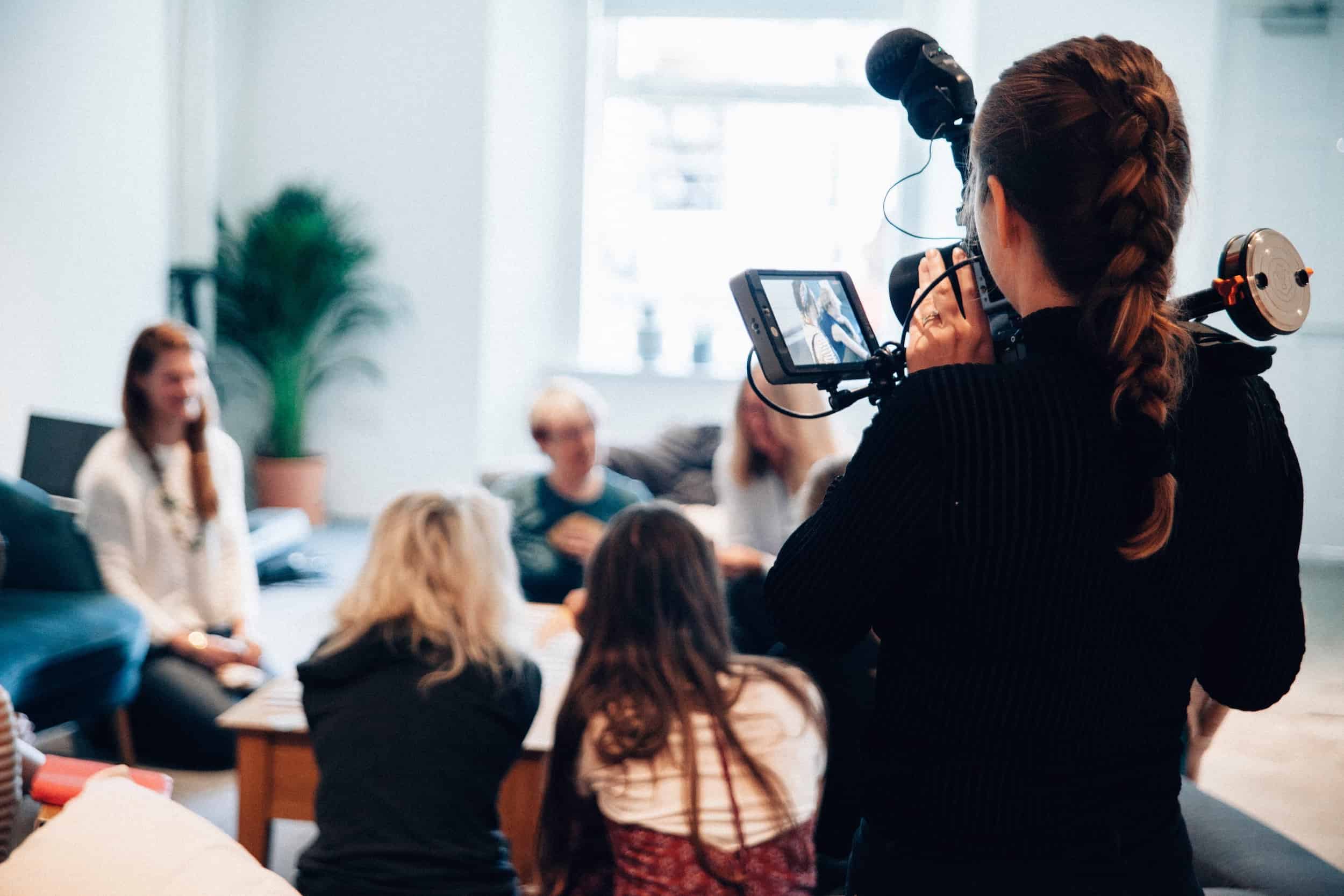 26 Nov

Legal Videographer Jobs: Complete Guide

Anyone with an interest in videography knows that it can be a challenge to find a steady job that pays well within their field. However, the job of a legal videographer can do just that. With a high demand for legal videographers, the job is a viable source of income for anyone looking to pursue videography.

In this post, we will provide a complete guide to legal videographer jobs. Legal videography is a growing profession with great potential for interested individuals.

Legal videographers are offered many great benefits and opportunities through this exciting career. Upon meeting a few basic requirements, a legal videographer is able to make a competitive salary in a flexible field.

How do you get started as a legal videographer? What jobs are included in this field? Keep reading to learn more in this complete guide on legal videographer jobs.
Legal Videographer Job Description
A legal videographer is an individual who records legal proceedings. Some of these events may include depositions, trials, immovable evidence, or other legal transactions. By using professional video and audio equipment, a legal videographer perfectly captures the interactions of these important events.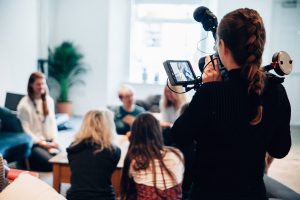 Legal videographers are sometimes known by the title of the forensic videographer or court videographer. This should give you further insight into the job description for their position. A legal videographer is responsible for abiding by certain rules and regulations which dictate how they record these proceedings. 
In addition to capturing the necessary video and audio footage, a legal videographer is also responsible for compiling and often presenting the final video. This occasionally requires them to present the recording to a courtroom during a trial.
Working as a Legal Videographer
Many legal videographers work for a court reporting firm that helps them build their client base. A legal videographer in this position would receive their salary directly from their firm. This option allows for stability and a steady source of income. However, working for a court reporting firm often inhibits a legal videographer from pursuing additional passions or forms of videography.
Some of the most successful legal videographers, however, work as freelancers. Although this career choice lends itself to less stability, the earning potential is far greater than working with a court reporting firm. Freelance legal videographers are able to build relationships with various legal firms through whom they get their work.
Working as a freelance legal videographer provides an individual with complete control over their schedule, allowing them to pursue other areas as well. Additionally, a freelance legal videographer is able to set their own rates in order to create a profitable career.
Training for Legal Videographers
Becoming a legal videographer does require some training. Because of this, it is a great career both for individuals with no video experience and individuals who are already video experts. 
Although the only formal education requirement for becoming a legal videographer is a high school diploma or diploma equivalent, most successful legal videographers have pursued additional education. Obtaining an associate or bachelor's degree in media production or a similar field will set the aspiring legal videographer above their competitors. This will lead to a more profitable career in the long run.
Instead of formal college education, many legal videographers choose to pursue additional education through their local trade school or community college. The following areas of study will provide insight into the details of your job, making you a better legal videographer:
Video Production

Video Editing

Criminal Justice

Forensics

Sound Engineering
By pursuing one or more of these courses, as well as constant education on current technology and videography trends, a legal videographer will provide themselves with the ability to excel within their trade. Additionally, the legal videographer with additional training is able to charge their clients a higher rate for their services.
Legal Videographer Requirements
As discussed above, the only formal education requirement for becoming a legal videographer is a high school diploma or equivalent certificate. However, when working for a court reporting firm, a legal videographer may need to obtain specific certifications.
Becoming a Certified Legal Video Specialist (or CLVS) is required by many reporting firms or even legal offices. This certification covers the basics of legal videography, ensures that the individual is proficient in legal videography rules and regulations, and provides the videographer with valuable education specific to the field.
The process of earning this certification includes a nine-module education course that covers the necessary information. This learning module is available both online and in-person. 
Next, a production exam is held which mimics a legal deposition. During this process, the legal videographer will have complete control of both recording and producing the footage. This is a way to test the real-life abilities of the aspiring legal videographer.
Finally, the legal videographer must pass a written exam of 120 multiple-choice questions. A score of 70 or higher must be earned in order to receive the Certified Legal Video Specialist certification.
To maintain your CLVS status throughout your career as a legal videographer, you must meet certain training requirements each year. Additionally, the legal videographer will pay an annual membership fee through a group like the NCRA (The Association for National Court Reporters and Captioners).
Although a certification like the CLVS is an additional step towards becoming a legal videographer, it is a worthwhile investment. Having a certification will open doors with court reporting firms and legal agencies, providing additional clients.
Equipment for Legal Videographers
Each legal videographer has their own equipment which is catered to the situation in which they work. A legal videographer who specializes in crime scene footage will require different equipment than a legal videographer who only records depositions will.
It is safe to assume that as a legal videographer you will need the following equipment:
Video Cameras 

Backup Video Camera

Audio Mixer

Headphones

Microphones

Lighting

Backdrops

Various Cords and Wires
The equipment used by a legal videographer must be of the highest quality to ensure optimal video and audio recording capabilities. Investing in the equipment for your legal videographer job may be a bit of a challenge. However, after obtaining the necessary equipment, you can continue adding to your kit as your business grows.
In some cases, a legal videographer may be able to establish a rental agreement with a local videography company. Doing so enables the individual to begin to make an income before investing in their own equipment.
Legal videographers working with a court reporting firm may be given specific requirements as to the equipment that they use.
Average Salary of a Legal Videographer
Working as a legal videographer can be quite rewarding financially. Because this career does not require a formal college education, the start-up costs are minimal. After purchasing the necessary equipment and tools for the job, an individual can start building their business.
The salary of a legal videographer greatly depends on the type of work they do. Working for a court reporting firm provides a legal videographer with a steady flow of clients. However, in doing so, they sacrifice a portion of their profits as well as the flexibility of their schedule.
Working as a freelance legal videographer allows the individual to set their own rates, oftentimes allowing for greater profit. In addition to this, a freelance videographer has the ability to set their schedule which allows them to pursue additional avenues of income during slow seasons.
The education or certifications you possess as a legal videographer will also dictate your average salary. Most legal videographers working in the United States make an average yearly salary of $52,000 and $75,000.
Legal Videographer Professionals
Working as a legal videographer can provide an individual with a steady source of income. Since this job requires minimal education, it is a viable choice for many individuals. A legal videographer has the privilege of participating in many exciting and unique experiences. 
Additionally, because of the ever-present demand for video footage of legal events and interactions, the field of legal videography is constantly growing. Pursuing a job as a legal videographer provides an individual with unique benefits, opportunities, and experiences. If you are considering a job in legal videography, click here for additional information!
Related Questions
Who is responsible for hiring the legal videographer for a deposition? Either law firm involved in a legal case can hire a legal videographer. In most cases, the attorney who has requested the deposition is responsible for hiring a legal videographer. The attorney can either hire a legal videographer directly through freelance networking or through a court reporting firm.
How do you find work as a legal videographer? There are many ways to find work as a legal videographer. Networking is crucial to a member of this industry. By building a good rapport with legal firms in your area, you can quickly build your clientele. For legal videographers who are not interested in pursuing freelance videography, it is best to work on staff at a court reporting firm. In this position, the firm will provide you with your clients.
Thank you for reading Deposition Academy! Click here to return to the home page.