Recommended Legal Video Cameras 
The most important piece of equipment for every legal videographer is a reliable video camera. You'll be using your video camera for hours at a time, and transporting it regularly, so making sure you invest in something that you can count on is imperative.
Before I dive into my recommendations, let's go over some of the features you should look for in a legal video camera: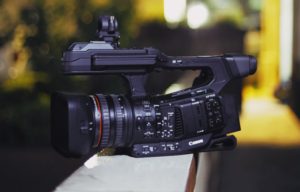 Audio input and plenty of audio options.
HDMI output that can be used as a backup audio recorder.
Long recording duration without breaks in the recording.
A crisp picture quality.
Lightweight and easy to transport.
Fast and easy to set up.
Ability to display a date and time stamp on the recording.
Here are my favorite cameras that meet the guidelines listed above:
The Canon XA11 Professional Camcorder (link to price on Amazon) is the perfect camera for anyone just starting out doing legal video. While there are certainly cheaper options on the market, the Canon XA11 is functional, durable, and has served my team well for years.
Some of the best features are it's ultra clear picture quality, detachable handle for easy transport, great performance in low light, and the plethora of audio options. All in all, this camera is a good deal for the price.
Sony's HXR-NX100 (link to price on Amazon) is my next recommendation. This camera has stunning picture quality, which isn't always necessary for legal video but can be great if you do any other type of video work.
It also has the built-in ability to simultaneously record to two memory cards. Allowing you to immediately have a backup copy of your work. This might not sound like much, but having a reliable backup is always smart when it comes to legal video.
The Canon XA15 Professional Camcorder (link to price on Amazon) is a lightweight camera that comes packed with all of the essential features mentioned above. Due to the nature of legal videography, you'll be transporting your gear a lot. Another benefit of using a lightweight camera is that you'll be able to use a lighter weight tripod, making your life that much easier.
In addition to it's lightweight, this camera comes with double SD card slots like the previous camera, allowing for instantaneous backups. It also boasts all the audio input options you'll ever need.
If you're looking for a really high-quality camera for legal video, Sony's PXW-Z150-4K-XDCAM-Camcorder (link to price on Amazon) is my go-to option. It's versatile, comes with a variety of great features for the price point, and can be used for years for all types of video projects.
Some of its main selling points are its variety of configuration options, crystal clear image, and large image sensor. If you're starting out on a budget, you can get by with cheaper options, but if you have the finances and you plan on doing a variety of video work, you might consider splurging on this one.
Thank you for reading! You can get back to all of my product recommendations by going here.