Recommended Headphones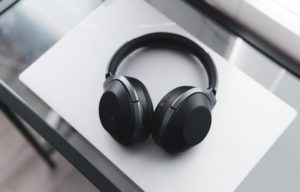 Audio levels in deposition videos need to be equalized to maximize clarity.  Listening to the audio levels can help you find the perfect balance.  Each mic picks up sound differently, and everyone's voice is different, so mixing the audio levels is key to understanding what is being said in the video.
Good headphones help to hear the audio levels clearly to mix the mic levels.  Here are some over-ear style headphone recommendations to help get the best audio mix for your videos.
The Audio Technica ATH M20x (link to price on Amazon) headphones are a great low-budget pair of headphones.  The value of all Audio Technica headphones is very hard to pass up at any price point.  The isolation and comfort that the earcups offer aid to mixing the mic levels.
Depending on your preference, you may not need to spend more than $50 on headphones.  These are great headphones for making sure your audio is clean and understandable.
Sennheiser HD 598 Cs (link to price on Amazon) headphones are very good isolating headphones.  The closed back helps to shut out the room noise while checking audio levels.  The construction of these headphones is sturdy and comfortable.  The cushion on the overhead band and the earcups is very soft but fully supported and adds to the isolation well.
Sennheiser is known for great audio quality in all their products, so you can't go wrong in choosing these headphones.  You will be able to hear your audio levels clearly to make sure everything sounds balanced for your deposition videos.
Another good option from Audio Technica is the ATH M70x headphones.  These headphones take the audio quality of the M20x model and turn it up to the highest degree.  The closed back and sturdy cushion gives them great isolation and clarity.  The cushion around the ears is very comfortable as well.
As with all Audio Technica products, these headphones are a great value in this price range.  You will be able to mix your audio with ease while using this pair of headphones.
To check out other gear recommendations, click here.