Recommended Audio Mixers
When you have multiple microphones and audio sources, an audio mixer is needed to balance the levels of all audio inputs.  This can be done in a few different ways with a few different types of equipment.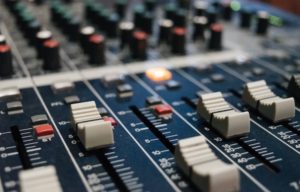 There are a few things that make certain mixers stand out among the rest.  Depending on your setup, a few things have to be considered when picking a mixer.
Inputs – must have at least 4 microphone inputs
Gain – control over each input individually
Portability – needs to be small enough and light enough to carry
Here are some recommended options for audio mixers to help you find the right one for you.
The Nady RMX6 (link to price on Amazon) is an easy-to-use microphone mixer that can mix up to 6 microphones simultaneously.  For only $90, this option is the cheapest recommendation on this list, but it is still a very good option.  It has 2 more channels than the other two options on the list.
Each microphone input has a corresponding knob on the front of the mixer.  Each channel has phantom power available just in case your microphones need it.  All things considered, this mixer is a great value that should be given serious consideration.
The Shure SCM268 (link to price on Amazon) is a very compact 4 channel microphone mixer that is simple and easy to use.  It is about half the width of the option above and very portable.  There is even an auxiliary input with separate level control for other audio recordings or audio from videos played in the deposition.
With its light weight and small enclosure, this is a great audio mixer to transport to and from your deposition shoots.  For under $400, this is a great mid-range item to get quality audio from your deposition video shoots.
Another great option from Shure is the SCM410 4-Channel Automatic Mixer (link to price on Amazon). This mixer is a more advanced version of the option above.  It has all the features of the SCM268 plus automatic level control as well as EQ for each input.
The automatic level control activates when more than one microphone is plugged into the mixer.  It reads the mic levels and balances them out so that all inputs are evenly heard on the mix.  This feature makes this option worth its higher price tag.  It does your job of adjusting audio levels for you!
Just like the other option from Shure, this mixer is easily transported and works very well as an audio mixer for deposition videos with multiple microphones.  All three options are great values within their respective price ranges, but this one gets my highest recommendation for the automatic level controls.